How to Clean a Portable Blender Like a Pro - Fast, Easy & Safe

---
Portable blenders are cool gadgets that make life easier. Why? Because they were specifically designed to be huge time-savers and to fit a busy lifestyle. You can take your portable blender with you anywhere - in the park, at the gym, at the office, on camping trips and hikes - or just use it at home.
Portable blenders are cordless, rechargeable and compact gadgets that come with a lot of pretty amazing features to make healthy snacks and meal preparation a lot easier. Making smoothies, shakes, cocktails and salad dressings is a lot faster with a portable blender and you don't have to worry about making a huge mess. Cleaning a portable blender is so easy and convenient.
In this article we'll show you how to clean a portable blender like a pro - fast, easy & safe
---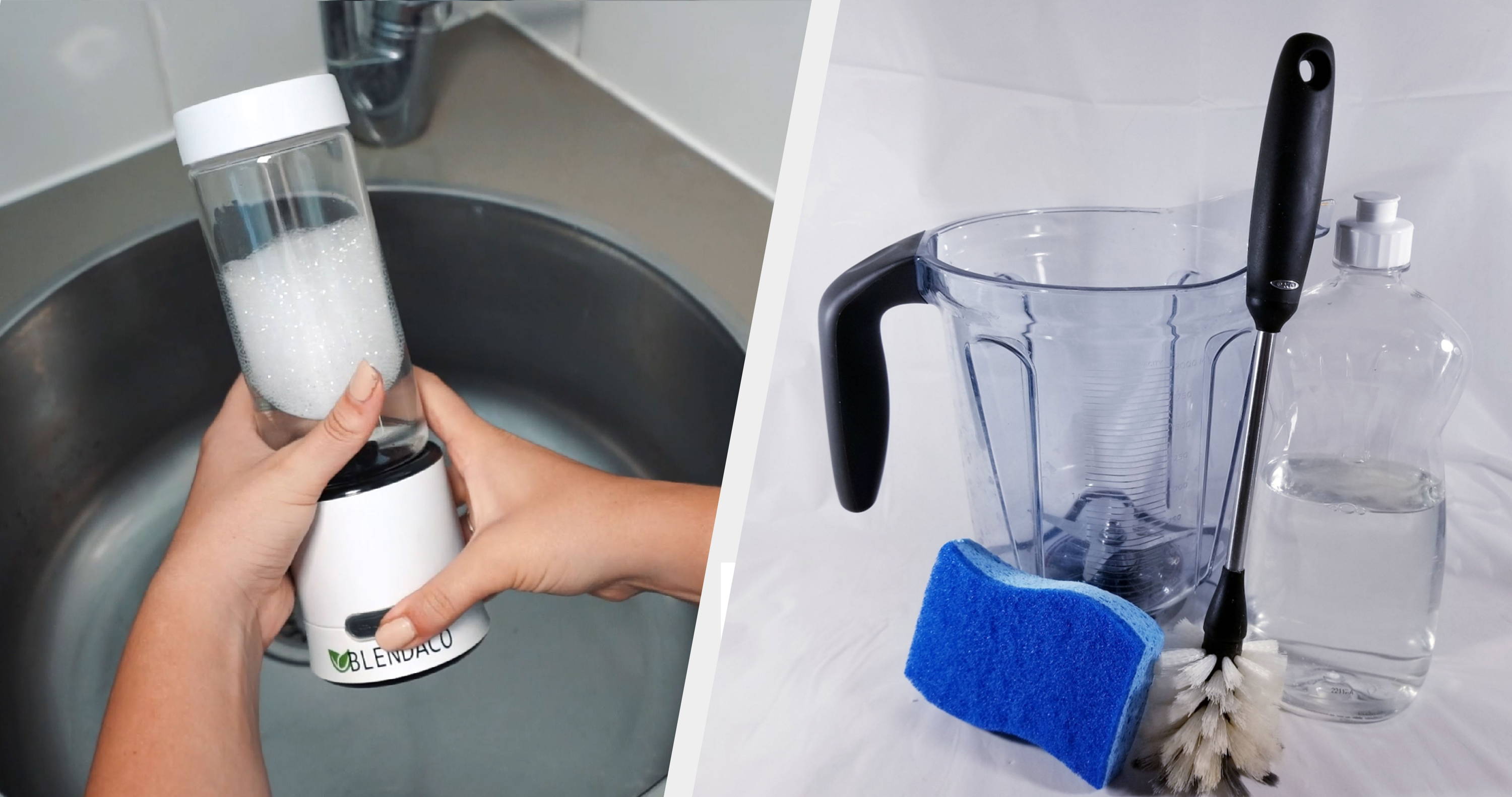 Portable blender versus home blender cleaning
A full-size home blender has its perks but when it comes to the cleaning part it's much more difficult to clean. There are many parts you need to clean individually and not all of them might be dishwasher safe.
You'll often need to scrub each part with a sponge to thoroughly clean it. Portable blenders like Blendaco on the other hand are small and compact and so much easier to clean. Read on to discover how to clean your portable blender fast, easy and safe.
---
The Blendaco portable blender is incredibly easy to clean. Thanks to its technology and design, the blender will self-clean in a matter of seconds. You simply need to fill the blender jar with ¼ warm water, add 1-2 drops of dishwashing liquid, put the lid on and blend for a few seconds.
To rinse it, you will do the same operation but this time with water only and you're done. Lay out all your components to dry to avoid foul smells and bacteria build-up. The whole operation is so simple, even kids can do this.
As you can see, cleaning the Blendaco portable blender takes less than one minute.
Blendaco's almost magical self-cleaning function is possible thanks to its powerful 7.4V Japanese Crafted Carbon Steel Motor that can rotate at a whooping 16,500 RPM.
Another aspect worth mentioning is the fact that Blendaco's blender jar is made out of high strength borosilicate glass, which is durable, BPA-free, non-toxic and it's much less prone to retaining odors.
A very important thing we need to mention from the start is the fact that the base of the portable blender should never be placed in a dishwasher or under water because it contains its motor and all the electrical components.
---
How to thoroughly clean your portable blender
It often happens that you cannot clean your Blendaco portable blender on the spot. You might be at the gym or in the park and you'll only be able to clean your portable blender once you are home.
A special tip to clean your blender when you cannot clean it right away or if you're blending sticky ingredients like peanut butter or pancake batter is to add a little bit of baking soda and to rinse thoroughly using the same technique we mentioned above.
This time you'll need to fill the blender jar with ¼ warm water, add ½ teaspoon baking soda, let the mixture sit for 10 minutes, add the lid and then blend for 20-30 seconds.Lay out all your components to dry to avoid foul smells and bacteria build-up. Baking soda is a powerful natural deodorizer as well, so in case your blender jar has a foul odor this cleaning technique will help you get rid of it.  
Keep in mind that this cleaning method should be used for situations that require a more thorough cleaning. Baking soda is a natural solution that works great with difficult ingredients that tend to stick to the blades, to the lid or to the sides of your blender. Regular dishwashing liquid and warm water should work just fine in most situations.
---
Other ways to clean your portable blender
Although the Blendaco portable blender has a self-cleaning function, you might prefer to clean your blender using your dishwasher. Or maybe you would prefer cleaning your portable blender using dishwashing liquid and a sponge. You can do this but you need to be aware of the following:
The base of the portable blender contains its motor and electrical components and should never be placed in a dishwasher or under water !
Avoid water from getting into the base of your portable blender because this can damage it. Only the portable blender's jar and lids are dishwasher safe/can be washed with water and dish soap.