Blendaco vs Boose Comparison - Which Portable Blender to Choose?
Source: booseblend.com.au
Portable blenders have become must have gadgets for a healthy lifestyle.
These rechargeable cordless mini blenders are the ultimate companions for millions of people worldwide who want to take better care of their health and wellbeing no matter where they are - at home, at work, at the gym, in the park, at the beach or while travelling in their car or van.
Thanks to portable blenders' convenience and ease of use, it has become easier and more accessible to make better diet choices on the go. Vitamin-packed juices, fruit and vegetable smoothies, post-workout shakes and other healthy snacks and meal replacements are incredibly easy and quick to prepare with the right portable blender.
If these innovative gadgets have caught your attention (we encourage your healthy lifestyle choices) and you're interested in purchasing a portable blender, you might do some research about different models and brands. Comparing each brand's features will help you make an informed purchasing decision so that you can choose the best portable blender that suits your particular needs.
In this article, we'll discuss the differences between Blendaco and Boose. Both Blendaco and Boose are Aussie portable blenders.
Let's dive into the Blendaco vs Boose comparison! We'll go over the main features you need to take into account when purchasing a portable blender and we'll explore what Blendaco and Boose each have to offer.
---
What's the difference between Blendaco and Boose?
Blendaco is a small, lightweight portable blender designed for healthy, nutritious snacks at home or on the go. With Blendaco you can enjoy fruit and veggie smoothies, juices, shakes, iced drinks, cream soups, salad dressings and countless more delicious snacks or meal replacements, wherever you are.
Its long-lasting battery, powerful motor and high-quality materials make Blendaco a trusty and durable portable blender that can quickly blend your favourite recipes to perfection, no matter where you are.
---
Why Blendaco offers more value for the price?
Blendaco has a powerful motor and a superior battery that lasts longer than other similar portable blenders, making it reliable and convenient to use in any situation. It truly is a little "pocket rocket", worthy of its nickname, packing a lot of power in a compact and lightweight design that's built to last. Blendaco is made of premium materials, from the high-strength borosilicate glass to the stainless steel blades and blender base. Thanks to its more generous jar volume and motor performance, Blendaco's able to effortlessly blend iced drinks, frozen fruit smoothies, cream soups, bulletproof coffee and numerous other recipes you enjoy.
---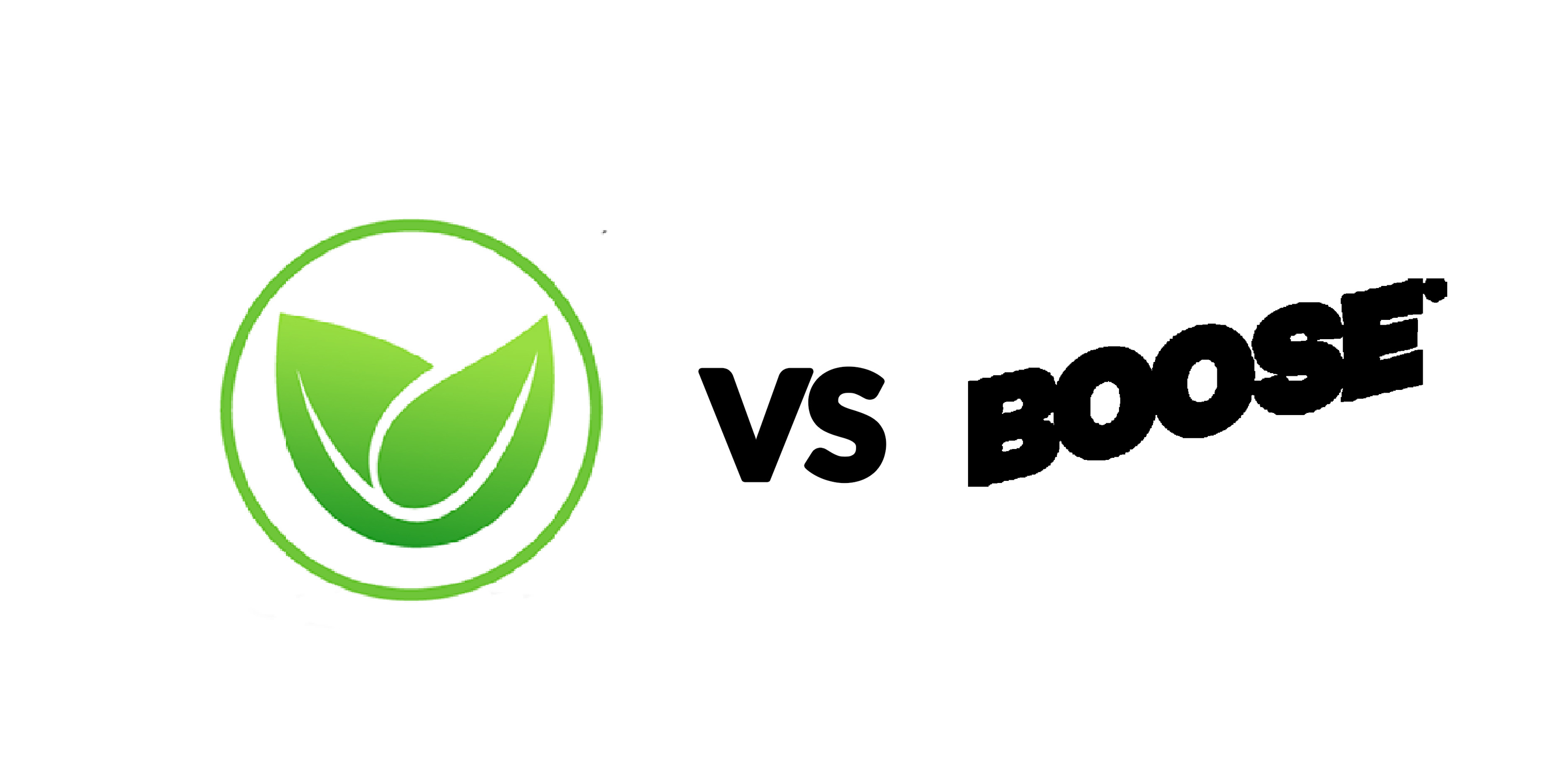 Blendaco vs Boose
Comparison
Dimensions and weight
Blendaco weighs 700 g and is heavier than Boose which weighs 400 g. Blendaco looks more sturdy, while Boose appears to be more compact. The difference in size between the 2 portable blenders is very much influenced by the jar volume. Blendaco's blender jar has a volume of 450 mL, while Boose has a jar volume of 300 ml.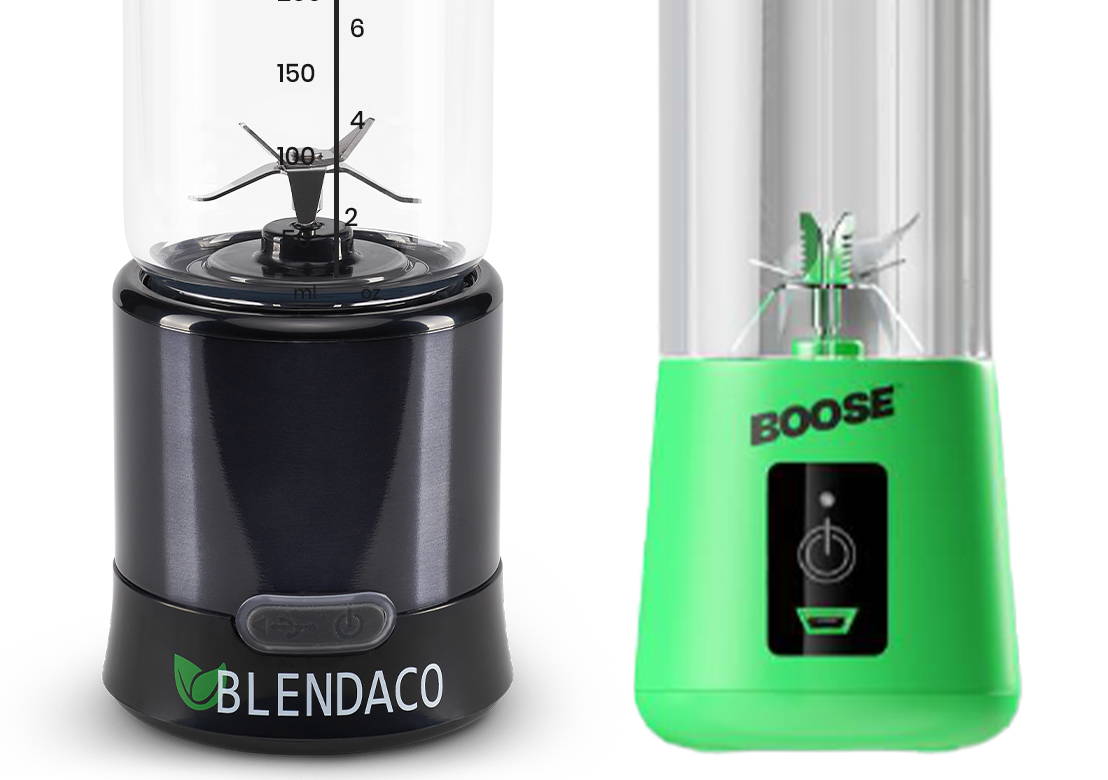 Source: booseblend.com.au
Battery and charging
The Blendaco portable blender has a 5000 mAh rechargeable battery that lasts up to 20+ blends, while the Boose portable blender has a rechargeable battery that lasts 8 to 12 blends, depending on the recipe.
Blendaco has a water-resistant USB type-C port with a protective silicone seal around it for extra protection. Boose's blender base is not presented as being water-resistant and its USB port is exposed, having no protective silicone seal.
Please be aware that water entering the base of the blender is dangerous, no matter the portable blender model or brand. The motor and all the electrical parts of the portable blender are located inside the base. This is why the base of the portable blender should never be immersed in water or placed in a dishwasher as it might pose a safety risk. This applies to both Blendaco and Boose (and other portable blender brands as well).
Source: booseblend.com.au
Motor and jar
Blendaco has a powerful, unmatched 7.4V Japanese Crafted Carbon Steel Motor with a motor speed of 16500 RPM. According to the specifications, Boose has a 150W motor with a speed of 22000 RPM, which means Boose's blades rotate faster when blending.
Blendaco's jar is made out of durable BPA-free borosilicate glass while Boose's jar is made out of BPA-free plastic. As opposed to Boose, Blendaco's jar has measurement marks that allow you to measure your ingredients as you add them to the blender. You'll be able to follow your favourite recipes to the letter for perfect results every time and it will be so much easier to control your portions if you're on a strict diet.
Blendaco's jar has a unique 2 in 1 system and it comes with an extra leak-proof lid that transforms the jar into a small, handy bottle. You can drink your favourite smoothies more easily on the go and you can store the jar in the fridge. With Boose, you can only drink from the blender or from another glass or cup.  
When it comes to the volume capacity of the jar, Blendaco has a bigger volume capacity - 450 mL versus 300 mL for Boose.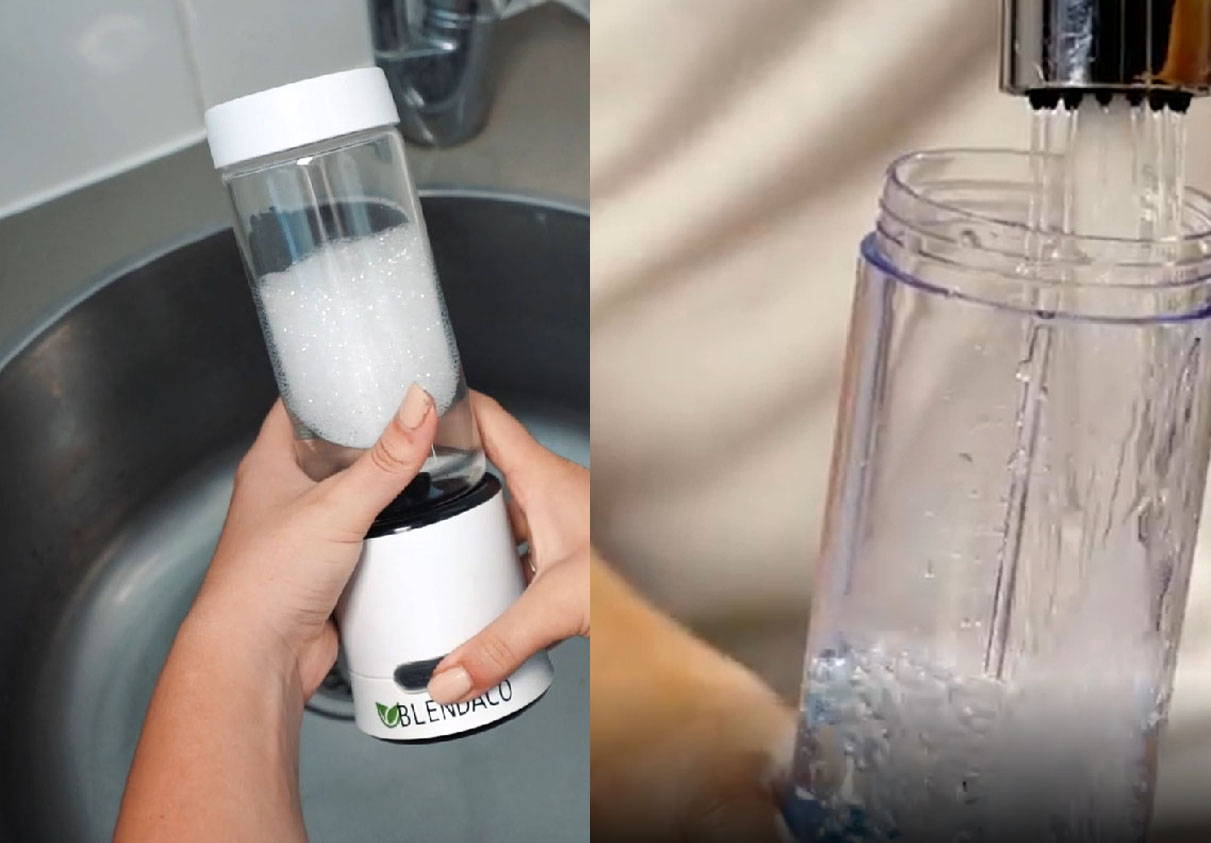 Source: booseblend.com.au
Self-cleaning feature
Both Blendaco and Boose portable blenders are very easy to clean thanks to their self-cleaning function. The procedure is easy: simply fill the jar 1/4 with water, add 1-2 drops of dishwashing liquid, put the lid on and blend for a few seconds. Repeat until clean, rinse, and dry. Another important aspect when it comes to cleaning is the fact that both Blendaco's jar and lid are dishwasher safe, as opposed to Boose's.
As mentioned earlier, both Blendaco's and Boose's blender bases should never be placed in the dishwasher or immersed in water. All of the blender's electrical components are located there and improper handling can cause an electrical hazard.
Source: booseblend.com.au
Ice-crushing capabilities
Great news for all iced drinks aficionados - the Blendaco portable can crush ice (and frozen fruit and veggies). The same thing goes for the Boose portable blender.
As an advice, if you want to extend your portable blender's life, it's important to make sure you use small pieces of ice/frozen fruit/veggies and that you always blend them with some liquid. Big chunks of ice and frozen fruit and veggies can dull the blades and cause the motor to work harder. This is a rule that applies not just to ice and frozen fruit but also to different hard ingredients that can dull the blades, no matter what model or brand of portable blender you choose.
Ease of use
Both Blendaco and Boose are easy to use and have a one-click operation - just press the power button to start blending. There are no other settings required prior to this.
However, if you want a more powerful blending, with Blendaco you can long press the power button for a few seconds to jump-start the blender.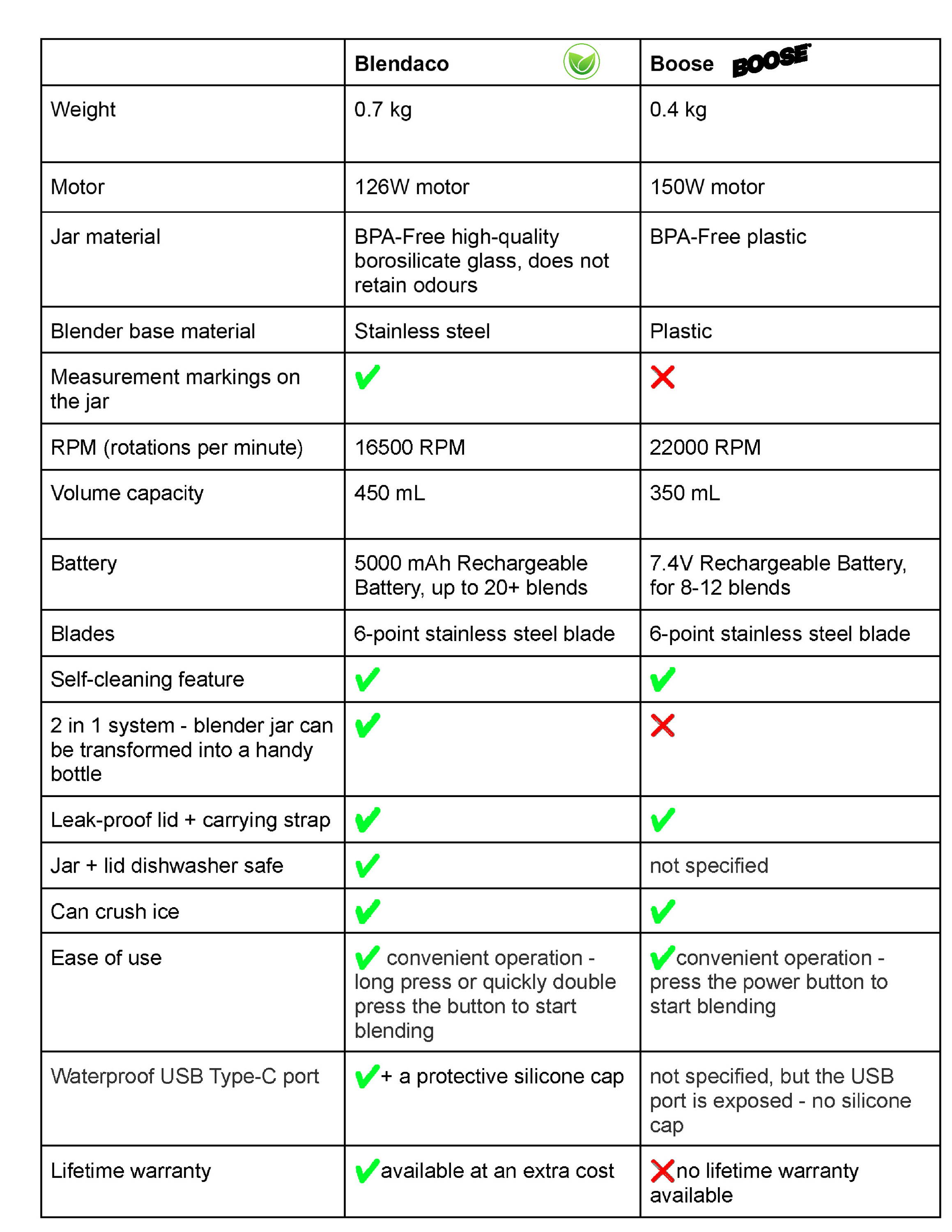 Source: booseblend.com.au
25 comments