Portable Blender for Iced Drinks: Iced Fruit Smoothies & Iced Coffee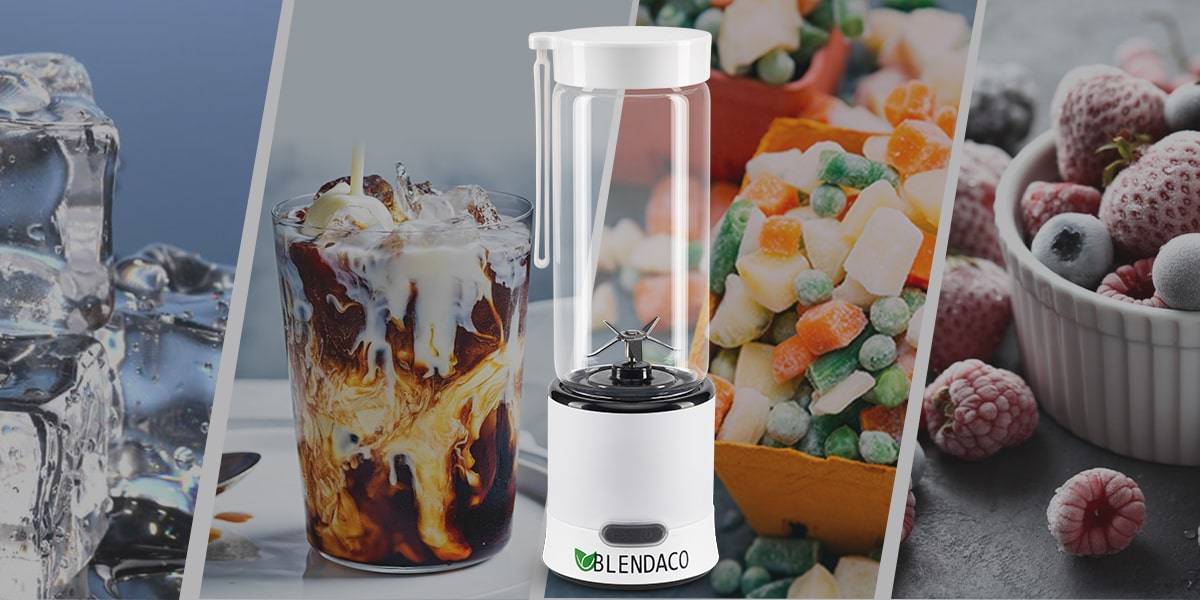 ---
There's nothing like a refreshing iced drink on a hot summer's day. Or on any given day :) Adding ice to any drink makes it so much more enjoyable.
If you have a soft spot for iced drinks like iced fruit smoothies, iced coffee or iced lemonade, we'll tell you some of our secrets for preparing incredible iced drinks.
The only thing you'll need is a blender and ice.
---
Portable blender for iced drinks?
If you're thinking about purchasing a blender there are many things you should consider in order to make the right choice. There are numerous types of blenders on the market and each model has its own pros and cons.
Depending on your needs and lifestyle, there are two main types of blenders you can choose from: kitchen blenders and portable cordless blenders.
Blendaco is a rechargeable portable cordless blender specifically designed to meet the needs of busy, active people who are interested in staying healthy and fit. It's a small, compact and versatile gadget that is suited for at home or on-the-go use. It's great to have at the office for a healthy snack, to take with you at the gym or while you're travelling.
One of the most common questions that we receive in our inbox or chat is: '"Can the Blendaco portable blender crush ice and frozen fruit"? Not all blenders can crush ice or frozen fruit, but we're happy to tell you Blendaco is able to do this. Blendaco may be small, but it's quite mighty - it's a portable blender designed for ice and frozen fruit.
This compact portable blender is powered by a 7.4V Japanese Crafted Carbon Steel Motor that is able to blend ice and frozen fruit. The blender jar is made out of high strength borosilicate glass and is safe, strong and durable, as opposed to many other portable blenders that have plastic jars. This is why the Blendaco portable blender jar can resist ice crushing without the risk of cracking. If you're looking for a portable blender for iced fruit smoothies and iced coffee, then you should definitely consider Blendaco.
---
Iced fruit smoothies
Other than being super refreshing and grand, iced drinks are huge time-savers, especially frozen fruit and veggie smoothies. If you're looking for the ultimate time-saving snack, try a frozen fruit and veggie smoothie! You can also use fresh fruits and ice of course, but sometimes, when you're in a rush, frozen fruits and veggies are the best solution.
Frozen fruits and veggies are very convenient to have in the freezer for a go-to smoothie. You can buy frozen fruits and veggies from your grocery store or you could freeze your own fruits and veggies. Making your own frozen fruits and veggies can help reduce food waste, so it's a big plus.
Instead of throwing away the fresh fruits and vegetables you are not able to consume in due time, peel them, cut them and freeze them. This way you can enjoy using them later in different recipes. There's no difference between frozen and fresh fruits and vegetables in regards to the nutritional benefits. Fruits and vegetables have the same vitamins, minerals and antioxidants both fresh and frozen.
A time-saving tip: portion your fruits and veggies when you freeze them. Make small servings, so that the next time you're in a hurry you'll have everything you need ready to be blended for a nutritious smoothie. No more wasting time peeling and cutting fruit.
There's no need to defrost the fruits and veggies to make smoothies. Just add them to your Blendaco blender and you're good :) It's that easy.
Another quick tip, if you want to improve the texture and creaminess of your smoothie: add thickening ingredients such as Greek yogurt, avocado, peanut butter, silken tofu, oatmeal or protein powder.
---
Iced Coffee
Iced coffee is a refreshing way to get your dose of caffeine. Plus, you get to be your own barista and whip up an incredible iced coffee to energize your day.
We have the perfect iced coffee recipe for your Blendaco portable blender! This iced coffee recipe can be customized according to your diet. We've included vegan options as well :)
You'll need:
½ cup of strong black coffee, completely cooled

20 ml milk/plant based milk

3 ice cubes

1 tablespoon condensed milk/sugar syrup/maple syrup

A hint of cinnamon/vanilla/cocoa to enhance the taste
Directions:
Put all the ingredients above in the jar and blitz until smooth.
If you want to make your iced coffee extra decadent, add a scoop of vanilla ice cream or whipped cream on top, along with some chocolate or caramel syrup for a truly instagrammable iced coffee.
A quick tip: Don't use granulated sugar in your iced drinks recipes because it's harder to dissolve. Syrups are better for homemade cold drinks such as iced coffee, iced lemonade or iced cocktails.
You can make your own sugar syrup at home, it's actually just a mix of sugar and water boiled together. We recommend storing it in the freezer in a well-sealed glass bottle for up to two weeks. This secret ingredient is super good to have for all types of homemade cold drinks.
If you're a coffee lover, you might also be interested in making your own bulletproof coffee. Check out our blog article on how to make bulletproof coffee!